Event Is Over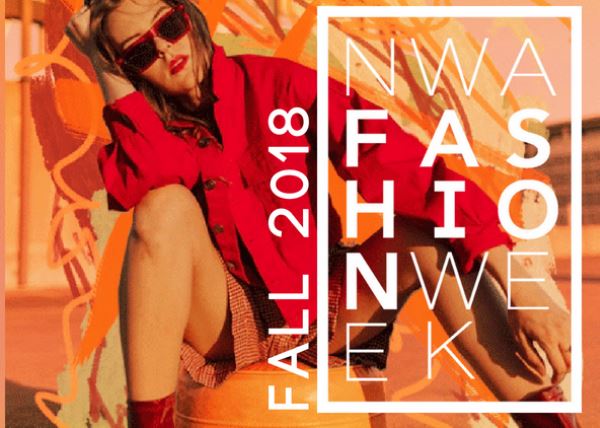 NWA Fashion Week Fall 2018
Opens
6:30 PM
Starts
Sep 20th 2018 · 7:00 PM (Thu)
3 days
Ends
Sep 22nd 2018 · 11:00 PM (Sat)
Refund Policy
Refunds Up To 1 Day Before Event Unless Canceled or Rescheduled
Where
4500 S School Ave, Fayetteville, AR 72701
Trade Show or Expo
Fashion, Hair, Art
---
Details
NWA FASHION WEEK | FALL 2018
This season's NWA Fashion Week is bringing in all new kinds of content with some partnerships that expand our programming into the realm of music, art, literature, and education. All of this is taking place at Drake Field in Fayetteville in the gorgeous Jett Aircraft hangar.
Please view each event to purchase tickets.
THURSDAY 9.20.18 | THE IDLE CLASS BLACK APPLE AWARDS & AAFF STUDENT DESIGNER SHOWCASE
FRIDAY 9.21.18 | NWAFW - THE SHOWS
SATURDAY 9.22.18 | NWAFW - THE SHOWS
A huge thank you to our sponsors for helping us bring fashion in Arkansas to a whole new level!
Sponsors
Cosmetics Partner: COVERGIRL
Venue Partner: Jett Aircraft
Production Partner: JTH Productions
Live Music Partner: Bike Rack Records
Ticketing Partner: Stubs.net
Media Sponsors: KNWA, Fox 24, Power 105.7, 94.9 Radio Jon/Deek, KXNA- 104.9 The X
Diamond Sponsors: Citiscapes Magazine, KFB Events, Bike Rack Brewing
Platinum Sponsors: 3W Magazine, BLK BOX
Gold Sponsors: Danielson Law Firm, Swetnam Cosmetic Surgery, Norman Forestry, LLC
Silver Sponsors: AMP Sign & Banner/NWA Sign Factory, Star 101.5, 96.7 Coyote, Janelle's Apothetique, Leisurlist, Nothing Bundt Cakes
Bronze Sponsors: Uptown Eyes, Springwoods Center for Women, KUAF, Secondhand Smoke BBQ, Salon Service Group, McDonald Eye Associates, Mount Sequoyah
Friend of Fashion: Blake Joseph Sandridge Agency- Farmers Insurance
---

Proceeds from NWA Fashion Week Support The Arkansas Arts & Fashion Forum, a non-profit organization founded in 2017 with the hope of providing a central location for creative producers in Arkansas to find professional development resources, creative inspiration, and a community of support.

The mission of the Arkansas Arts & Fashion Forum is to provide educational opportunities and professional support for aspiring avant-garde fashion designers, artists, and other creative professionals who are committed to building a vibrant and inspired creative community in Arkansas. Within this mission, the Arkansas Arts & Fashion Forum pursues three main areas of programming:


● Providing educational workshops, classes and panel discussions for both fashion professionals and the public to increase understanding of the art of fashion.

● Providing educational scholarships and production grants to aspiring fashion designers.

● Providing educational mentorship opportunities for aspiring photographers, models, hair stylists, makeup artists, videographers and other aspiring professionals to work with established professionals in an educational environment for the development and enhancement of professional skills and knowledge.

Each season the Arkansas Arts & Fashion Forum dedicates time and resources to ensuring that designers based in the state of Arkansas are able to participate in NWA Fashion Week, ensuring visibility to their brands and professional development opportunities toward the goal of establishing a thriving fashion industry in our state.