In Conversation: Gabrielle Korn
Apr 6th 2:00 PM
In Conversation: Gabrielle Korn
---
Arkansas Arts & Fashion Forum
In Conversation: Gabrielle Korn
Event Is Over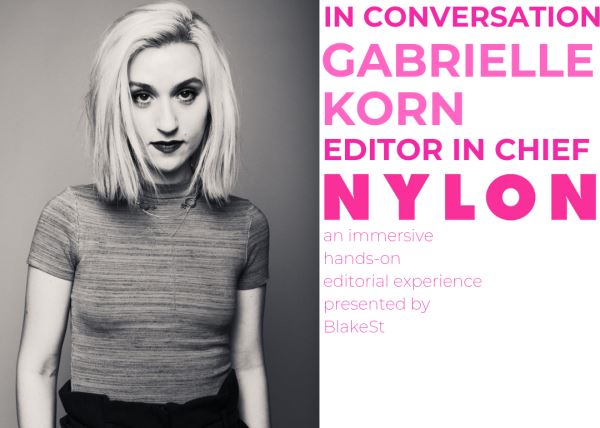 Starts
Apr 6th 2019 · 2:00 PM (Sat)
Ends
Apr 6th 2019 · 4:00 PM (Sat)
Where
222 SE 2nd Street, Bentonville, AR 72712
Refund Policy
No Refunds Unless Canceled or Rescheduled
Trade Show or Expo
Beauty, Art
Details
NWA Fashion Week and Arkansas Arts & Fashion Forum are partnering up to present an educational speaker event featuring Editor in Chief of Nylon, Gabrielle Korn.
Join us for an immersive, hands-on, editorial experience presented by BlakeSt.
Gain insight into fashion's editorial world and learn to create content for your own online fashion magazine under Gabrielle's expert guidance.
This event is open to the public, but space is very limited, so please reserve your ticket today!
About Arkansas Arts & Fashion Forum: AAFF exists to provide educational opportunities and professional support for aspiring avant-garde fashion designers, artists, and other creative professionals who are committed to building a vibrant and inspired creative fashion community in AR.
About BlakeSt: From its beginnings as a humble farmhouse, BlakeSt ushers the notion of a social club into the modern era by providing a roof over those seeking community and wellness as foundational elements towards achieving one's personal best. Founded in the principle that we go farther, together, at BlakeSt, camaraderie is found through the forging of friendships and organic bonds with those from other walks of life. BlakeSt is a conduit when seeking the greater good, wellness realized in all forms - social, mental and physical.
For travel information, please check out www.visitbentonville.com or call their toll-free number (800) 410-2535.