This event page is informational only. There are no tickets for sale.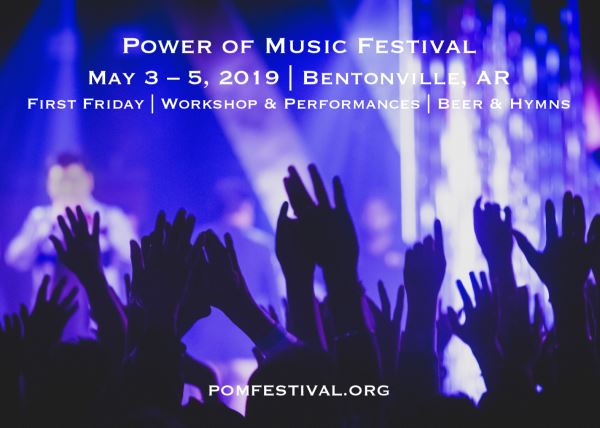 Bank of America
Power of Music Festival
Opens
4:00 PM
Starts
May 3rd 2019 · 4:30 PM (Fri)
3 days
Ends
May 5th 2019 · 7:00 PM (Sun)
Refund Policy
No Refunds Unless Canceled or Rescheduled
Where
102 E. Central Ave, Bentonville, AR 72712

---
Details
We have partnered with two great Bentonville Organizations and three giants in the Nashville Music Industry to help us produce the Power of Music Festival in 2019. Downtown Bentonville Inc. has played a vital role in revitalizing the Downtown Bentonville region bringing life to the town square through their community events for more than 15 years. They run events that Bring the community together so they may interact, engage, and build relationships with one another. As for the Power of Music Festival, we are sponsoring and taking over the music for First Friday. Beer & Hymns is a community sing a-long of hymns and cover songs you know by heart. (if you don't, that's ok, we'll provide lyric sheets.) Each event supports a featured charity (May – I'll Fly Away Foundation) bringing people together to raise our glasses, raise our voices, and raise funds for the organizations that change the world.
Schedule of Events:
Friday, May 3, 2019 – First Friday, Downtown Bentonville Square:
4:30 – 5:30 – Students with TASC
5:35 – 5:55 – Candy Lee singing songs from the Elementary School Kids
6:00 – 6:30 – BMG Nashville Songwriters Preview
6:45 – 8:00 – The Shotgunbillys
Saturday, May 4, 2019 – Meteor Guitar Gallery: (Tickets required for all Saturday Events)
9:00 – 4:00 – Masterclass: Music Business 101
7:00 – 10:00 – BMG Nashville Songwriters Round, Ozark Regional Songwriters Association Finale
Sunday, May 5, 2019 – Bike Rack Brewery at 8th St. Market:
5:00 – 7:00 – Beer & Hymns