2019 Northwest Arkansas Pride
Jun 14th 7:00 PM
2019 Northwest Arkansas Pride
---
Northwest Arkansas Equality, Inc.
2019 Northwest Arkansas Pride
Event Is Over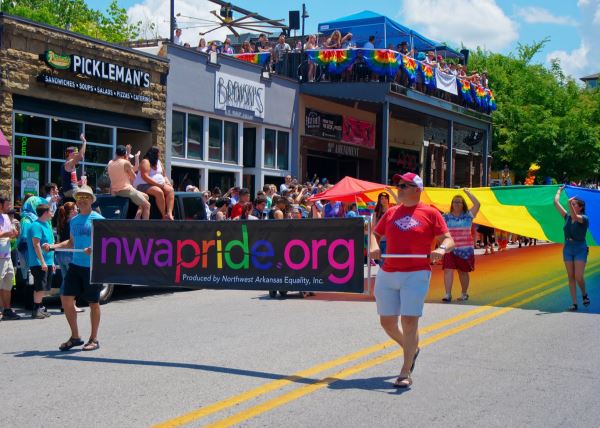 Starts
Jun 14th 2019 · 7:00 PM (Fri)
3 days
Ends
Jun 16th 2019 · 11:30 PM (Sun)
Where
500 W. Dickson Street, Fayetteville, AR 72701
Refund Policy
No Refunds Unless Canceled or Rescheduled
Party or Social Event
Community & Culture
Related Events
Details
Arkansas' largest LGBTQ pride celebration!
---
It's time for Arkansas' largest LGBTQ Pride celebration! June 2019 marks the 50th Anniversary of the Stonewall rebellion, a pivotal moment in our LGBTQ history. This year, we celebrate NWA Pride's 15th anniversary and posthumously dedicate our celebration to parade founder Norm Hadley.

You can catch the hilarious Fortune Feimster and the That's What She Said Show at Out in the Ozarks on Friday, June 14th. The always-free NWA Pride Parade and Festival take place at 11:00 a.m. on Saturday, June 15th on Dickson Street in downtown Fayetteville. Saturday night, the fabulous Alyssa Edwards and hot, hot, hot DJ Joe Ross of Houston headline Glitterville 2019, with Iman & Haus of DeMarco, the Dickson Street Divas, and DJ ATM. We wrap up the weekend with Hi Tea, the Ozark Mountain tea dance and pool party at the Mount Sequoyah Center!
---
Northwest Arkansas Pride is produced by Northwest Arkansas Equality, Inc. For more information about these events and other activities throughout the month of June, visit nwapride.org.