Arkansas Arts & Fashion Forum, Samantha's Garden, & Sassafras Springs Vineyard & Winery
Floral Art: Dress Making
Event Is Over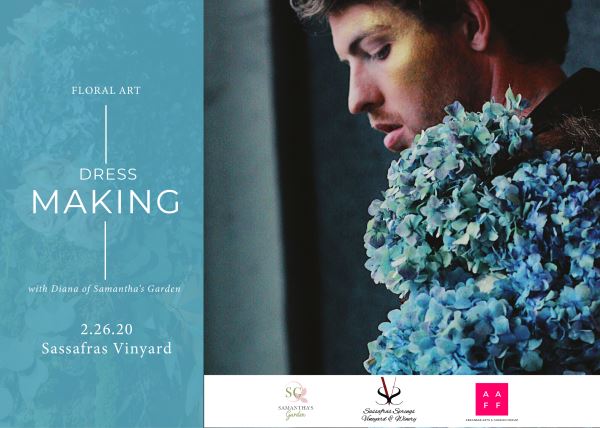 Opens
5:45 PM
Starts
Feb 26th 2020 · 6:00 PM (Wed)
Ends
Feb 26th 2020 · 9:00 PM (Wed)
Where
6461 E Guy Terry Rd, Springdale, AR 72764
Refund Policy
No Refunds Unless Canceled or Rescheduled
Conference, Classes, Training, or Workshops
Design, Gardening, The Arts
Details
Join Arkansas Arts & Fashion Forum, Samantha's Garden, and Sassafras Springs Vineyard & Winery for the second class in a three part series of Floral Art. This workshop will focus on the art of making a dress out of freshly cut florals as seen on the Northwest Arkansas Fashion Week Runway designed and created by Diana Thompson and her Samantha's Garden team.
Come learn how to make a truly unique piece from a floral expert at a beautiful local venue! This class is something that you do not want to miss!
Each class in this series costs $60, however you can save 10% if you sign up for 2 of the classes or 20% if you pre-register for all 3!